April Dean's Message
"April is the cruellest month," or so goes the famous opening line of poetry. This pops into my head every year as I turn the calendar page from March to April -- perhaps because the April 15 Tax Deadline is looming!
This year, of course, saw the cosmic confluence of Easter and April Fool's Day. Our weather can't seem to decide between sixty-degree days or additional snowfall. But now that our Easter celebrations have passed, I hope you can enjoy some "recovery" time from hectic church schedules and all the extra musical rehearsals that go with it. We should all make it a point to enjoy a little break from our routines. Take the time to do something kind or relaxing for yourself and others.
If gardening or yard work are your hobbies, now is the time to indulge. You may take some extra time to read for pleasure (the Newsletter is a good start!), or learn a new piece of music. Check out the enclosed Calendar of Events, and treat yourself to a special concert event in the area. Or make plans to travel this summer -- the AGO schedule of summertime conventions and POEs is also included in this newsletter.
Plan to mix and mingle with your LexAGO Friends and other church musicians at our upcoming April 14 program. Our own Owen Sammons will lead us in an organ improvisation workshop that morning at First Presbyterian Church. Owen is known throughout our chapter and region as an extraordinarily talented improviser, and he has graciously agreed to pass along some of his tips to us! I'll look forward to seeing you there. I know we'll all feel uplifted and energized following this program!
Also enclosed in this newsletter is our 2018 Election Ballot. The Chapter holds an election of new officers in even-numbered years. Inside, you will find an outstanding Slate of Officers for your approval. These LexAGO Members have agreed to have their names placed into nomination for various offices for the 2018-20 term, and will be serving in leadership roles on the Executive Committee. As such, they will be making important decisions impacting the future direction of our Chapter. We thank each of them for their dedication and enthusiasm.
Please submit your VOTE, before the May 2 deadline, to LexAGO Executive Secretary Lynn Vera by one of three methods described inside this issue. It is the right and privilege of all full LexAGO Members (regular, special and young organist categories) to vote for the of cers representing YOU!
Larry Sharp
January Jubilee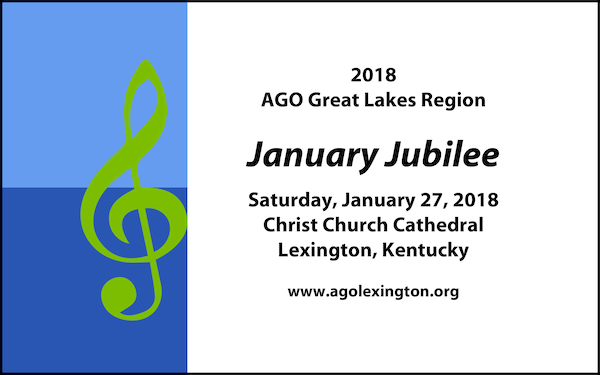 *** NEW *** Monthly Sponsors
Starting October LexAGO is including monthlong sponsorships on our website and newsletter. Please see the full page ads in our newsletters and our Sponsors page. Contact Dr. Larry Sharp for details and rates on how to become a monthlong or yearly sponsor.
Sponsors for 2017-18
Thanks very much to the following for sponsoring our newsletter and website!! And thanks to Larry Sharp for making all of the arrangements. Check out their ads on our Sponsors page.
Bluegrass Theater Organ Society
Christ Church Cathedral
D.C. Schroth Organ Builders
The Episcopal Church of the Good Shepherd
Harstad Fine Arts Series
Milnar Organ Company
The Piano Shop
Rodgers Classic Organs - Tom Magee
Mission, Vision, and Values Statement
The AGO Mission statement has been modified as of May, 2016. The entire statement can be seen on the AGO National Mission, Vision, and Values Statement page.
The mission of the American Guild of Organists is to foster a thriving community of musicians who share their knowledge and inspire passion for the organ.
The vision of the American Guild of Organists is to engage, support, and uplift every organist.