August Dean's Message
Greetings to all and I hope you have had a wonderful music-filled and relaxing summer! I spent a pleasant week at Lake Junaluska at the Fellowship of United Methodists Music and Arts week, where we were lead by organist Mark Mummert and several highly renowned choral conductors. If you went on a "musical trip" this summer, I'd love to hear about it and include it in the newsletter - just email me a short summary (james.humlong@gmail.com). I'm also excited to begin my term as Dean for the Lexington Chapter and am looking forward to an exciting program year!
Our first program will certainly start off with a bang in Danville at Trinity Episcopal on Sunday, September 9 at 4:00pm. Recitalist David Briggs is well known to our chapter, having performed several recitals in Lexington, including our closing recital at the 2011 Great Lakes Regional Convention. Trinity Episcopal is home to a Gabriel Kney organ that was relocated from Michigan and rebuilt by the Holtkamp Organ Company, and was dedicated in 2016. Host Neva Thompson and the fine people of Trinity Episcopal have been planning this event for quite some time, so I hope as many members as possible are able to attend this program that is sure to be exciting!
In other LexAGO news, please remember to renew your dues as soon as possible! Dues must be paid by August 31 for inclusion in the 2018- 2019 yearbook. As in years past, we will also be selling advertisements for the yearbook as well as in our monthly newsletter. You can read more details later in the newsletter.
As our year goes along, please feel free to reach out to me either by email, phone, or text message if I can ever be of any help to you. Again, I hope everyone has had a relaxing summer and is ready for all the rehearsals to begin again - only 20 more weeks until Christmas!
James
January Jubilee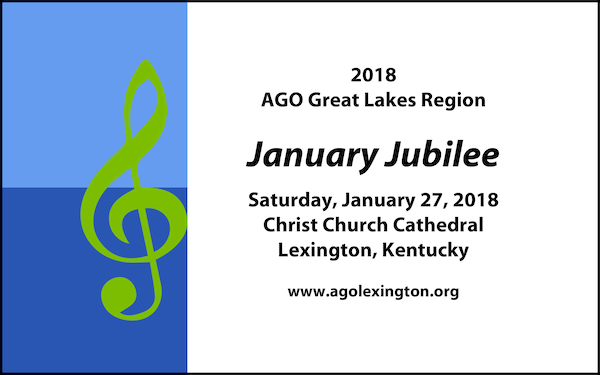 *** NEW *** Monthly Sponsors
Starting October LexAGO is including monthlong sponsorships on our website and newsletter. Please see the full page ads in our newsletters and our Sponsors page. Contact Dr. Larry Sharp for details and rates on how to become a monthlong or yearly sponsor.
Sponsors for 2017-18
Thanks very much to the following for sponsoring our newsletter and website!! And thanks to Larry Sharp for making all of the arrangements. Check out their ads on our Sponsors page.
Bluegrass Theater Organ Society
Christ Church Cathedral
D.C. Schroth Organ Builders
The Episcopal Church of the Good Shepherd
Harstad Fine Arts Series
Milnar Organ Company
The Piano Shop
Rodgers Classic Organs - Tom Magee
Mission, Vision, and Values Statement
The AGO Mission statement has been modified as of May, 2016. The entire statement can be seen on the AGO National Mission, Vision, and Values Statement page.
The mission of the American Guild of Organists is to foster a thriving community of musicians who share their knowledge and inspire passion for the organ.
The vision of the American Guild of Organists is to engage, support, and uplift every organist.