September Dean's Message
Dear LexAGO Members and Friends:
I hope everyone enjoyed the Labor Day holiday weekend, marking the "official" end of summer! That means that a fresh AGO Program Year is upon us.
Please mark your calendars and plan on joining us on Saturday morning, September 30, as we kickoff our 2017-18 Program Year at Christ Church Cathedral. Dr. Brenda Portman of Cincinnati will be our special guest, presenting a workshop entitled "Contemporary Organ Repertoire." I can think of no better way for us to get off to a good start this fall. See you then!
Until then, let's begin thinking of ways to build on our Chapter's many successes. This may start, for some, with a simple commitment to attend more programs this coming year and to become more involved in the life of our Chapter. Did you know that only 60 percent of our membership attends a single function each year?
For those already active, perhaps it's time to volunteer for a leadership role or participate as a member on one of our various committees. There will be a need for several volunteers just during the upcoming January Jubilee alone. Please let me know of your interest and willingness to serve. We'll be more than happy to put you to work!
Perhaps now is the time to consider inviting a friend, colleague or family member to become a member of the LexAGO. Each of us knows any number of individuals who would benefit from involvement in our "organ"-ization! Put it off no longer! Invite someone to join our Lexington Chapter!
Now would also be the perfect time to step up and offer your unused guest room to one of our visiting AGO speakers or recitalists. Again, by the time of our January Jubilee, there will be a great need for this service to our Chapter. Your gracious hospitality for a single night can save our Chapter Treasury hundreds of dollars!
Your Chapter Yearbook Committee, under the leadership of Brian Hunt, has been in overdrive these past weeks, updating the Chapter Roster and processing an ever-growing number of Chapter Sponsors. Our Chapter's Membership stands strong at 117, as we welcome many new members this fall, including National AGO President Michael Bedford and Great Lakes Regional Councillor Karl Bruhn. This marks a first for the LexAGO, to have among our "ranks" a National President, so I expect everyone to be on his/her best behavior!
See you on September 30, if not sooner. Come and experience for yourself ALL the LexAGO has to offer!
Larry Sharp
January Jubilee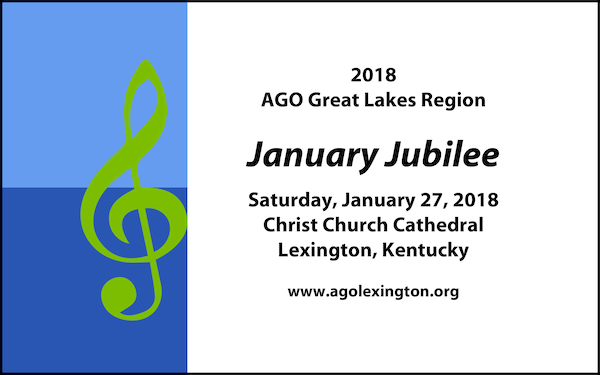 Sponsors for 2017-18
Thanks very much to the following for sponsoring our newsletter and website!! And thanks to Larry Sharp for making all of the arrangements.
Bluegrass Theater Organ Society
Christ Church Cathedral
D.C. Schroth Organ Builders
The Episcopal Church of the Good Shepherd
Harstad Fine Arts Series
Milnar Organ Company
The Piano Shop
Rodgers Classic Organs - Tom Magee
Mission, Vision, and Values Statement
The AGO Mission statement has been modified as of May, 2016. The entire statement can be seen on the AGO National Mission, Vision, and Values Statement page.
The mission of the American Guild of Organists is to foster a thriving community of musicians who share their knowledge and inspire passion for the organ.
The vision of the American Guild of Organists is to engage, support, and uplift every organist.