May Dean's Message
At last! The month of May has finally arrived in the Bluegrass! I certainly hope YOUR Derby pick fared better than MINE (20th in a field of 20). Can I pick 'em, or what?!
May is also shaping up to be a busy month for the Lexington AGO! Please plan on joining us on May 19 for our Chapter Luncheon and Officer Installation to be held at Dudley's on Short. A delicious lunch menu has been planned for us, so don't miss this special event in the life of our Chapter! In fact, you may make a weekend of it with our "add-on" reception planned for May 18 at Christ the King Cathedral, following Carolyn Craig's recital. Let's celebrate another great LexAGO Program Year! Details are provided inside this newsletter. See you there!
Speaking of the upcoming Officer Installation, be sure to check the list (inside) of new Chapter Officers for 2018-20. We appreciate their willingness to roll up their sleeves and step into their respective leadership roles. Thanks to ALL who participated in this year's election.
Also inside this Newsletter, you will find the announcement of our 2018-19 LexAGO Program Year. Once again, your Executive Committee is pleased to present an ambitious program lineup, featuring nine programs in three Central Kentucky cities. There are exciting recitals, workshops, educational opportunities and social events planned, in addition to another "Pedals, Pipes and Pizza" event. We will also be partnering with our friends in the Bluegrass Theatre Organ Society for a unique program opportunity at The Kentucky Theater later this fall. Indeed, there's something here for everyone!
It's hard to believe that my term as LexAGO Dean is coming to an end. It seems like only yesterday we were in the midst of our Chapter's first Pipe Organ Encounter. But since that time, we've hosted the region's January Jubilee, celebrated Max Reger at 100 and the Reformation at 500, enjoyed top-notch recitalists, and have been enlightened and entertained at workshops and social gatherings. No other Chapter can boast of hosting the AGO's "Triple Crown" of events! But above all else, it's our PEOPLE who make us stand out from the pack. I would like to offer a final word of thanks to ALL who attended our programs, volunteered in countless ways, and donated their time and resources to help promote our Chapter. I truly appreciate your kind words, written notes, friendship and support these past two years.
A personal word of thanks must be extended to Erich, Kathleen and Lisa for their tremendous support during the Jubilee, and also to James, Jane, Scott, Lynn, Angela and Nancy for going above and beyond the call of duty each and every month. You helped make our work seem fun and easy! I'm proud to be part of the best AGO Chapter anywhere!
--Larry Sharp
January Jubilee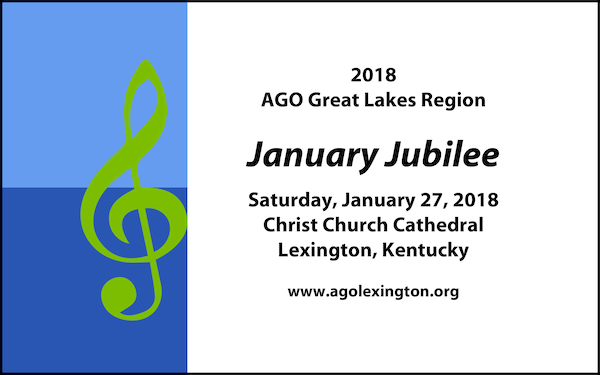 *** NEW *** Monthly Sponsors
Starting October LexAGO is including monthlong sponsorships on our website and newsletter. Please see the full page ads in our newsletters and our Sponsors page. Contact Dr. Larry Sharp for details and rates on how to become a monthlong or yearly sponsor.
Sponsors for 2017-18
Thanks very much to the following for sponsoring our newsletter and website!! And thanks to Larry Sharp for making all of the arrangements. Check out their ads on our Sponsors page.
Bluegrass Theater Organ Society
Christ Church Cathedral
D.C. Schroth Organ Builders
The Episcopal Church of the Good Shepherd
Harstad Fine Arts Series
Milnar Organ Company
The Piano Shop
Rodgers Classic Organs - Tom Magee
Mission, Vision, and Values Statement
The AGO Mission statement has been modified as of May, 2016. The entire statement can be seen on the AGO National Mission, Vision, and Values Statement page.
The mission of the American Guild of Organists is to foster a thriving community of musicians who share their knowledge and inspire passion for the organ.
The vision of the American Guild of Organists is to engage, support, and uplift every organist.