February Dean's Message
Dean's Message
WOW! That's all I have to say! Lexington's January Jubilee is now in the history books, but what a GREAT day for everyone involved! Our Jubilee day was full of great people -- new guests, young organists, and LexAGO members alike -- and full of positive energy! Jubilee Treasurer James Humlong and Registrar Don Seevers report that we had 82 registrants from 8 states -- Alabama, Indiana, Illinois, Kentucky, Ohio, Oklahoma, Tennessee and Virginia.
There was no downtime at any point during the day, from the opening keynote address by AGO President Michael Bedford to the closing recital by Jonathan and Katie Rudy. The speakers, workshops, recitalists, Lois Fyfe Music Store and Johannus organ display were all superb -- and that lunch! It was everything an AGO Regional Event should be -- and MORE -- thanks to YOU, our Members and Hosts! Your passion for the organ and for the AGO was on full display throughout the day, while your gracious hospitality and welcoming attitude were extended to all our guests!
If there is a key to success in planning such an event as our Jubilee, it is simply to surround yourself with positive, energetic people and let them go to work! The Jubilee Planning Committee Members each took their assignments and ran with them. Our invited guest speakers -- Michael Bedford, Jonathan and Katie Rudy, Paul Barte, Karl Bruhn, Marlon Hurst, David Lamb, Patty Saunders and Holly Sunderland -- were more like a regional or national convention lineup! Add to that our eager and outstanding volunteers, plus the second-to-none hospitality extended by the Cathedral musicians and staff, and there was no way to go wrong!
My thoughts now, several days removed from the event, are that I would change NOTHING about our Jubilee, even if it were possible to do so. And that's the highest praise I could even hope to share with you!
Friends, you astound me and humble me with your generous spirits. Thank you to all who said "YES" to this opportunity to help showcase the Lexington AGO and share our resources with other chapters and potential new members. The day was a success, thanks to YOU!
I'm proud to be part of the best AGO Chapter anywhere!
Larry Sharp
January Jubilee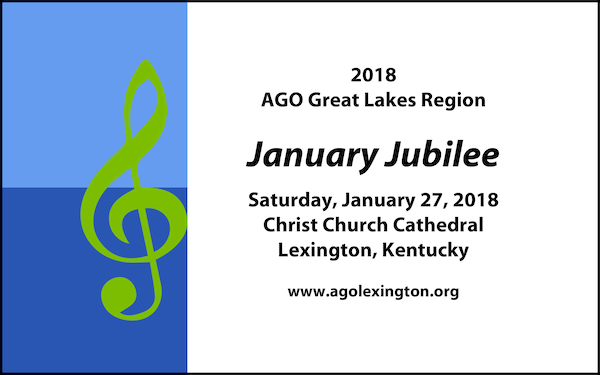 *** NEW *** Monthly Sponsors
Starting October LexAGO is including monthlong sponsorships on our website and newsletter. Please see the full page ads in our newsletters and our Sponsors page. Contact Dr. Larry Sharp for details and rates on how to become a monthlong or yearly sponsor.
Sponsors for 2017-18
Thanks very much to the following for sponsoring our newsletter and website!! And thanks to Larry Sharp for making all of the arrangements. Check out their ads on our Sponsors page.
Bluegrass Theater Organ Society
Christ Church Cathedral
D.C. Schroth Organ Builders
The Episcopal Church of the Good Shepherd
Harstad Fine Arts Series
Milnar Organ Company
The Piano Shop
Rodgers Classic Organs - Tom Magee
Mission, Vision, and Values Statement
The AGO Mission statement has been modified as of May, 2016. The entire statement can be seen on the AGO National Mission, Vision, and Values Statement page.
The mission of the American Guild of Organists is to foster a thriving community of musicians who share their knowledge and inspire passion for the organ.
The vision of the American Guild of Organists is to engage, support, and uplift every organist.