January Dean's Message
Dean's Message
January is here and, with it, a new year! So drop the ball, and let's all raise a toast to 2018!
I certainly hope that, by now, you have marked Saturday, January 27, on your calendars. Lexington's January Jubilee is almost here! Once again, we will have the unique opportunity to welcome area and regional guests, while showcasing all that the Lexington AGO has to offer!
Resolve to invite one or more guests to come and "Jubilee" with us! Nearly 750 registration brochures have been mailed to non-AGO churches in our area, but there is no substitute for the "personal touch." Church musicians, clergy, choir members, directors, students, teachers and congregation members are more likely to respond to a personal invitation coming from YOU!
The modest registration fee includes your choice of four workshops, a choral reading session, a music store display, a keynote speaker, a closing recital -- and lunch!
Resolve, too, to participate in the Jubilee in a way that's meaningful to YOU! You may wish to register and participate in the full-day's activities. You may wish to volunteer in some other capacity, perhaps by contributing financially or by hosting a Jubilee speaker overnight in your home. The Jubilee registration fee is deliberately set rather low, in order to attract potential new members. However, it only represents approximately half of the cost involved in hosting a Jubilee, so your donations are certainly welcome!
Many thanks go to members of the Jubilee Planning Committee for their efforts to help bring this event to Lexington -- James Humlong, Jane Johnson, Tina Wagoner, Scott Heydinger, Don Seevers, Angela Hurley, Glenna Metcalfe, Ted Gentry and Mark DeAlba. We also extend thanks to the host musicians at Christ Church Cathedral -- Erich and Kathleen Balling and Lisa Hall. We are grateful for Patrick Ryan's efforts to provide a Johannus digital organ and to our good friends at Lois Fyfe Music. And, finally, there's no way adequately to show our appreciation to our Jubilee speakers, recitalists and workshop presenters, all of whom are volunteering their time and expertise to help make this AGO event a success -- Michael Bedford, Jonathan and Katie Rudy, Paul Barte, Karl Bruhn, Marlon Hurst, David Lamb, Patty Saunders and Holly Sunderland.
Thank you, all! May all our troubles last as long as our New Year's resolutions! See you at the Jubilee!
--Larry Sharp
January Jubilee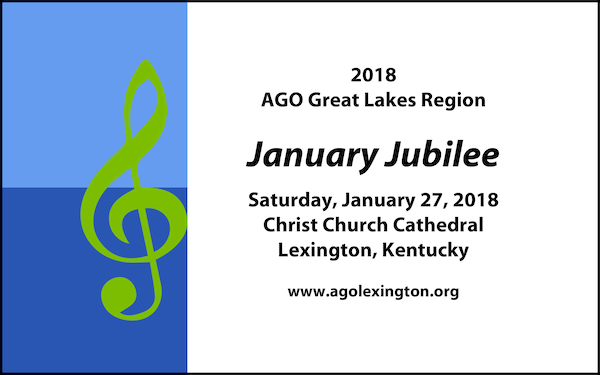 *** NEW *** Monthly Sponsors
Starting October LexAGO is including monthlong sponsorships on our website and newsletter. Please see the full page ads in our newsletters and our Sponsors page. Contact Dr. Larry Sharp for details and rates on how to become a monthlong or yearly sponsor.
Sponsors for 2017-18
Thanks very much to the following for sponsoring our newsletter and website!! And thanks to Larry Sharp for making all of the arrangements. Check out their ads on our Sponsors page.
Bluegrass Theater Organ Society
Christ Church Cathedral
D.C. Schroth Organ Builders
The Episcopal Church of the Good Shepherd
Harstad Fine Arts Series
Milnar Organ Company
The Piano Shop
Rodgers Classic Organs - Tom Magee
Mission, Vision, and Values Statement
The AGO Mission statement has been modified as of May, 2016. The entire statement can be seen on the AGO National Mission, Vision, and Values Statement page.
The mission of the American Guild of Organists is to foster a thriving community of musicians who share their knowledge and inspire passion for the organ.
The vision of the American Guild of Organists is to engage, support, and uplift every organist.