October Dean's Message
Dean's Message
Five hundred years ago this month, a German monk named Martin Luther posted his 95 Theses on the door of All Saints' Church in Wittenberg, thus igniting the Protestant Reformation. The Church, along with Western culture and music, was soon to change forever.
Joining with many of our area churches in marking this auspicious occasion, the Lexington AGO will present an October program featuring our own Dr. Zach Klobnak in recital at The Presbyterian Church of Danville on Friday evening, October 27. Zach will be performing organ works with a reformation theme on the sanctuary's Taylor & Boody organ. Mark your calendars and plan on attending. Zach has provided us with full details inside this Newsletter. This promises to be a splendid evening!
Our 2017-18 LexAGO Program Year is off to a great start! Twenty-one Members and Guests attended last month's workshop presentation by Dr. Brenda Portman at Christ Church Cathedral. Brenda's outstanding program of "Contemporary Organ Repertoire" left us all inspired -- and with a long list of new music that we must try out!
Rounding out this fall's programs will be a composer's workshop on November 18 at Crestwood Christian Church, followed by our Third Annual "Christmas Pipes" Concert at Southern Hills UMC, with all donations and proceeds benefitting the upcoming 2018 January Jubilee.
Speaking of the January Jubilee, be sure to read the very latest news and updates inside this Newsletter. It's not too early to be thinking how YOU may wish to contribute to this event. We will welcome all volunteers and financial contributions. Perhaps you have an unused guest room at your home to help with overnight accommodations for a Jubilee workshop presenter.
In a recent conversation with Dr. David Lamb, our AGO Councillor for Membership, David remarked how he had heard on several occasions how "friendly" the Lexington AGO Chapter is perceived to be. What a nice compliment! We have made great strides in that department over the past several years by intentionally sharing our hospitality and resources with other AGO Members and Chapters. Our upcoming January Jubilee will be just one more opportunity for us to shine, as we welcome AGO Guests and potential New Members, exposing them to ALL the Lexington Chapter has to offer!
As always, I appreciate your ongoing friendship and support. It is a privilege to serve as the Dean of the "Friendliest" Chapter around!
Larry Sharp
January Jubilee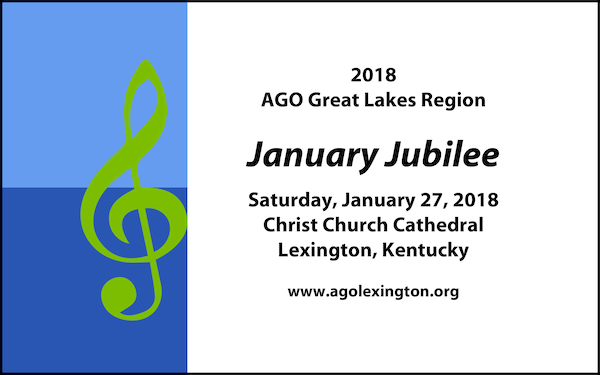 *** NEW *** October Sponsors
Starting this October LexAGO is including monthlong sponsorships on our website and newsletter. Please see the full page Steiner-Reck 40th Anniversary Concert and Celebration ad featuring LexAGO members Dr. Schuyler Robinson, Gabriel Evans and Jon Johnson, and the Concert & Evensong and Messiah presented at Christ Church Cathedral ad on our Sponsors page. Contact Dr. Larry Sharp for details and rates on how to become a monthlong or yearly sponsor.
Sponsors for 2017-18
Thanks very much to the following for sponsoring our newsletter and website!! And thanks to Larry Sharp for making all of the arrangements. Check out their ads on our Sponsors page.
Bluegrass Theater Organ Society
Christ Church Cathedral
D.C. Schroth Organ Builders
The Episcopal Church of the Good Shepherd
Harstad Fine Arts Series
Milnar Organ Company
The Piano Shop
Rodgers Classic Organs - Tom Magee
Mission, Vision, and Values Statement
The AGO Mission statement has been modified as of May, 2016. The entire statement can be seen on the AGO National Mission, Vision, and Values Statement page.
The mission of the American Guild of Organists is to foster a thriving community of musicians who share their knowledge and inspire passion for the organ.
The vision of the American Guild of Organists is to engage, support, and uplift every organist.