March Dean's Message
The liturgical season of Lent is now upon us, with its themes of hope and quiet reflection. Our music in our churches generally takes on a more somber or contemplative tone, with the promise of joy at Easter right around the corner.
We are grateful this month for the invitation to join in partnership with Tom White and our Friends at Faith Lutheran Church to present organist Mark Mummert and the immortal music of J.S. Bach. The Harstad Arts Series established at Faith Lutheran is, of course, a memorial to our friend and former LexAGO Subdean Bonnie Harstad. Bonnie was a dear friend and is greatly missed by all. I know she would be pleased to see this outstanding series of events brought to the Lexington community in her memory.
Also in this month's Newsletter, you will find the complete listing of our 27 New Members from our successful January Jubilee! A complimentary 6-month AGO Membership has been extended to 17 Jubilee participants, who were not previously AGO Members. Additionally, a complimentary "Chapter Friend" membership has been offered to 10 Jubilee participants from other AGO Chapters, bringing our total membership count to 145. This represents an all-time high for the LexAGO! Each 6-month complimentary membership includes the monthly journal TAO, the monthly Chapter Newsletter, access to our Calendar of Events, plus an open invitation to any (or all!) of our monthly programs, recitals, workshops and social events. Quite a bargain, anyway you look at it!
In order to strengthen the relationship between our New Members and our Chapter, we will now form a "Guild Friend Program." LexAGO Members will be paired with one (or more) new Jubilee Members. Each mentor will be encouraged to contact his/her new member as soon as possible to let the new member know about upcoming programs and events each month. Mentors will answer any questions our new members may have about the AGO, and, of course, will encourage them to renew their memberships when the time comes next summer.
Please contact our Jubilee Mentoring Coordinator, Glenna Metcalfe, or me TODAY to volunteer to be one of our new LexAGO Mentors. Everyone worked hard to make our Jubilee successful, so it's time to step up to the plate and make our New Members feel at home in their New AGO Chapter!
Wishing you a Joyous Easter and Spring
Larry Sharp
January Jubilee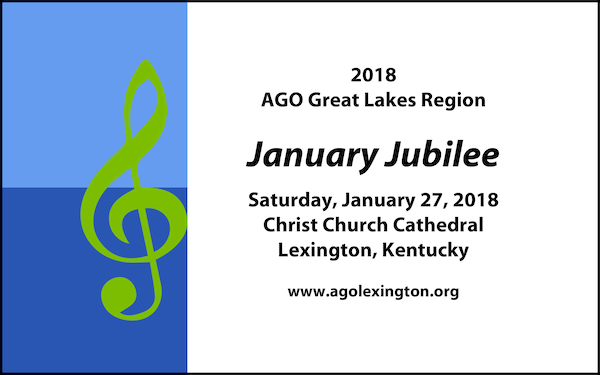 *** NEW *** Monthly Sponsors
Starting October LexAGO is including monthlong sponsorships on our website and newsletter. Please see the full page ads in our newsletters and our Sponsors page. Contact Dr. Larry Sharp for details and rates on how to become a monthlong or yearly sponsor.
Sponsors for 2017-18
Thanks very much to the following for sponsoring our newsletter and website!! And thanks to Larry Sharp for making all of the arrangements. Check out their ads on our Sponsors page.
Bluegrass Theater Organ Society
Christ Church Cathedral
D.C. Schroth Organ Builders
The Episcopal Church of the Good Shepherd
Harstad Fine Arts Series
Milnar Organ Company
The Piano Shop
Rodgers Classic Organs - Tom Magee
Mission, Vision, and Values Statement
The AGO Mission statement has been modified as of May, 2016. The entire statement can be seen on the AGO National Mission, Vision, and Values Statement page.
The mission of the American Guild of Organists is to foster a thriving community of musicians who share their knowledge and inspire passion for the organ.
The vision of the American Guild of Organists is to engage, support, and uplift every organist.